SKETCH ESTUDIO
Santa Ana, Panama City

Design Team
Carlos Chen
Daniela Manfredi
Johann Wolfschoon

Collaborators
Anthony Flores

Client
SKETCH

Area
288 m² (3100 ft²)

Year
2016-2017

Photography
Fernando Alda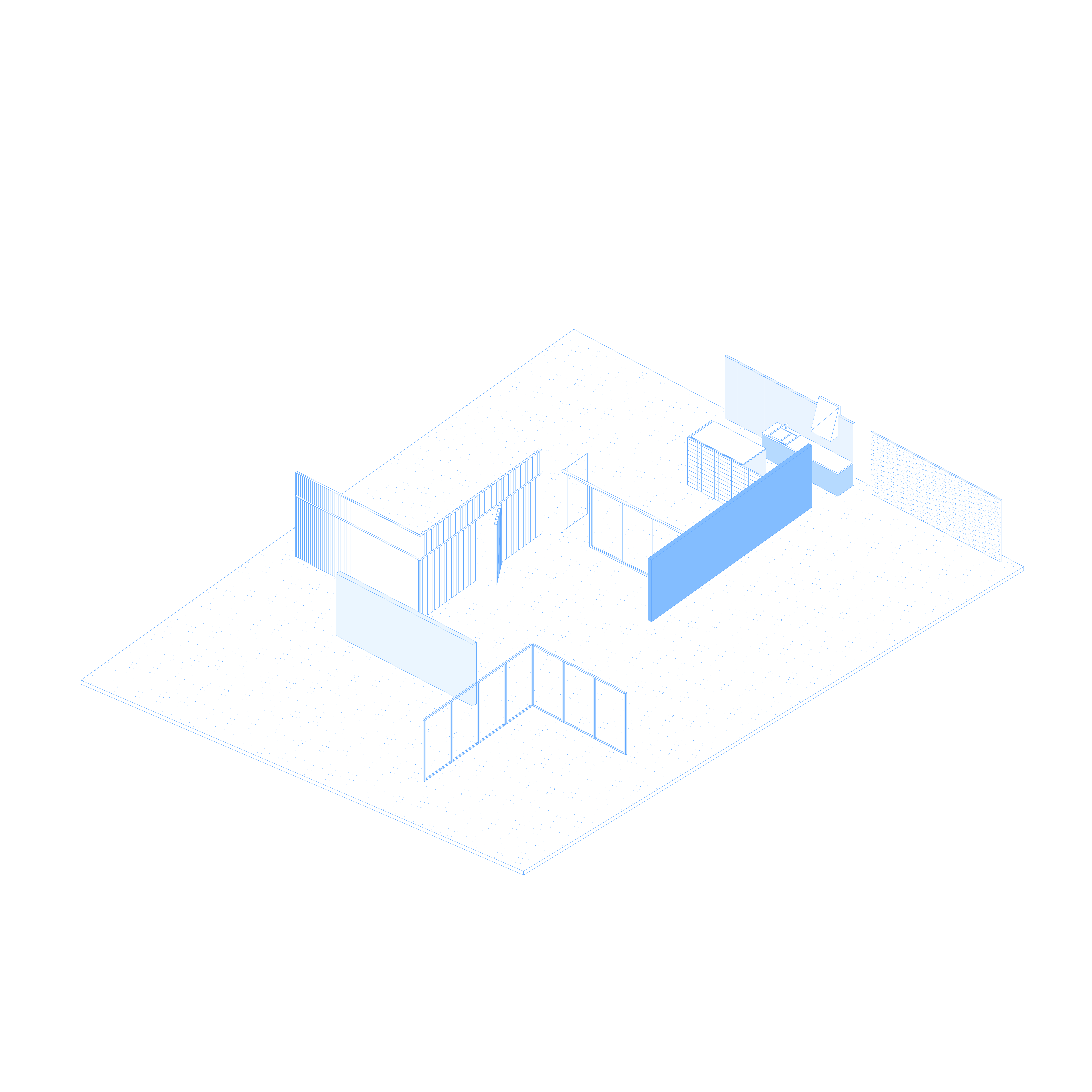 Sketch has recently moved its studio to a building located on Avenida Central, a pedestrian street near Panama City's Old Quarters, known for being the first commercial street in the city —a popular and busy one—, the original axis for the development of the city. Over time, and with new commercial and residential areas being developed in the outskirts of town, the top floor apartments and offices lining this street were left in decay and used as storage spaces. The building housing Sketch's studio date from 1930, originally designed to house the headquarters of the national electrical company, Fuerza y Luz.

The main approach for the project was to understand the spatial conditions and limitations of the original space, in order to address the design constraints as opportunities, rather than as problems; aiming to inhabit the floor space in an intelligent, efficient and economical way while using creative resources to maximize the experience and productivity at the workplace.

The studio's program is simple: open working areas, a meeting room, storage and display areas for books and material samples, and complementary spaces such as an open kitchen, dining room and bathroom. This simple brief along with the studio's no-door policy led us to build the least amount of partitions possible, while creating a series of interconnected spaces generated by two walls and one steel frame partition that divide the space into useful areas, each with its own program. These are subtle gestures that seem to be independent from the original walls, and that have unexpected material qualities that are visually contrasting to the prominent and heavy original structure.

Our ethos of exploiting the richness and physical characteristics of easily acquired, inexpensive materials is put to practice; using commonly overlooked or forgotten ones, such as LED lighting tubes, steel studs, ceramic tiles, and plywood to build and clad the few elements we used to divide the space. The furniture also plays an important role in the design concept. Most of it was designed and custom built for the studio, and serve as multifunctional and versatile elements that compose the space and highlight material qualities that are essential of a creative workplace.
Sketch ha trasladado recientemente su estudio a un edificio ubicado en la Avenida Central de la ciudad, una calle peatonal cerca del casco antiguo de Panamá, conocida por ser la primera calle comercial de la ciudad, una popular y concurrida, el eje original para el desarrollo. de la ciudad. Con el tiempo, y con el desarrollo de nuevas áreas comerciales y residenciales en las afueras de la ciudad de Panamá, los apartamentos y las oficinas de los pisos superiores que se alinean en esta calle se dejaron en descomposición y se utilizaron como espacios de almacenamiento. El edificio que alberga el estudio de Sketch data de 1930, diseñado originalmente para albergar la sede de la compañía eléctrica nacional, Fuerza y Luz.
El enfoque principal del proyecto fue comprender las condiciones espaciales y las limitaciones del espacio original, a fin de abordar las limitaciones de diseño como oportunidades, en lugar de problemas; con el objetivo de habitar la losa de manera inteligente, eficiente y económica, al tiempo que se utilizan recursos creativos para maximizar la experiencia y la productividad en el lugar de trabajo.
El programa del estudio es simple: áreas de trabajo abiertas, una sala de reuniones, áreas de almacenamiento y exhibición para libros y muestras de materiales, y áreas de servicio como una cocina abierta, comedor y baño. Este sencillo resumen, junto con la política de no puerta del estudio, nos llevó a construir la menor cantidad de particiones posible y tener una serie de espacios interconectados generados por dos paredes y una partición de marco de acero que dividen el espacio en áreas útiles, cada una con su propio programa . Estos son gestos sutiles que parecen ser independientes de las paredes originales, y que tienen cualidades materiales inesperadas y visualmente que contrastan con la estructura original prominente y pesada.
Nuestro espíritu de explotar la riqueza y las características físicas de los materiales adquiridos de manera fácil y económica se pone en práctica, utilizando los que comúnmente se pasan por alto u olvidados, como los tubos fluorescentes, los postes de acero, las baldosas de cerámica y el contrachapado para construir y revestir los pocos elementos que utilizamos para divide el espacio El mobiliario también juega un papel importante en el concepto de diseño. La mayoría de ellos fueron diseñados y hechos a la medida para el estudio, y sirven como elementos multifuncionales y versátiles que componen el espacio y resaltan las cualidades materiales que son esenciales en un lugar de trabajo creativo.